Vegetarian Christmas Stuffing Balls
Christmas Stuffing, for most, is the best bit of a Christmas feast. Filled with herbs, and delicious spices it is not only a flavoursome addition to turkey, or lamb but a stand alone winner on Christmas Day. This is why this recipe for Stuffing Balls from Dancing Through Sunday is a fantastic edition to any Christmas Feast. Whether you're a vegetarian, you made too much stuffing mix or just a keen stuffing lover (like us), this is sure to be a hit with your taste buds. No matter the reason we always say the more stuffing the better!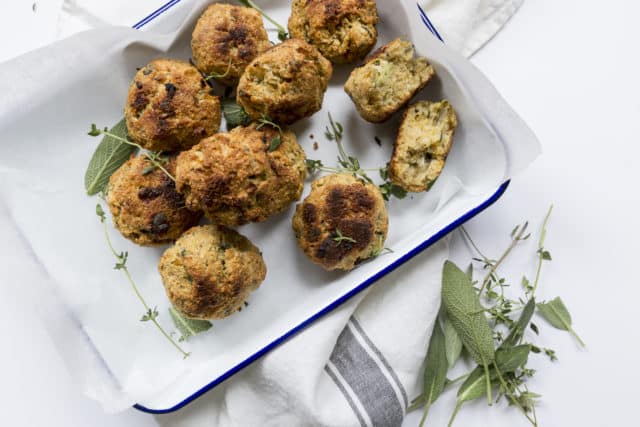 Ingredients
1 large brown onion, diced.
1 cup stuffing mix (can be brought from your local supermarket)
2 cups breadcrumbs
handful of fresh sage
handful of fresh thyme
1/4 cup parmesan cheese
tablespoon of butter
2 eggs
1/4 cup milk
salt and pepper
olive oil
Heat olive oil in a medium fry pan and fry onion until translucent and soft – about 4-5 minutes.
Whilst onions are cooking, finely chop the thyme and sage.
Add the butter to the frypan with the onion and then add your herbs and cook for 2-3 minutes. Once fragrant, remove from heat and allow to cool.
Once cool combine with the stuffing mix and bread crumbs in a large bowl. Add the Parmesan cheese, salt and pepper and mix roughly with hands or spatula.
In a separate smaller bowl, combine the 2 eggs and milk. Once onion and breadcrumbs are mixed, add the egg mixture and combine until the stuffing mix is firm enough to be able to roll into a ball. (Wet hands make the rolling easier)
Roll the stuffing mixture into evenly shaped balls and place on a lightly poled baking tray
Drizzle in olive oil and cook in the oven at 200 deg cel for 25-30 minutes until crispy and slightly browned.
Serve with gravy.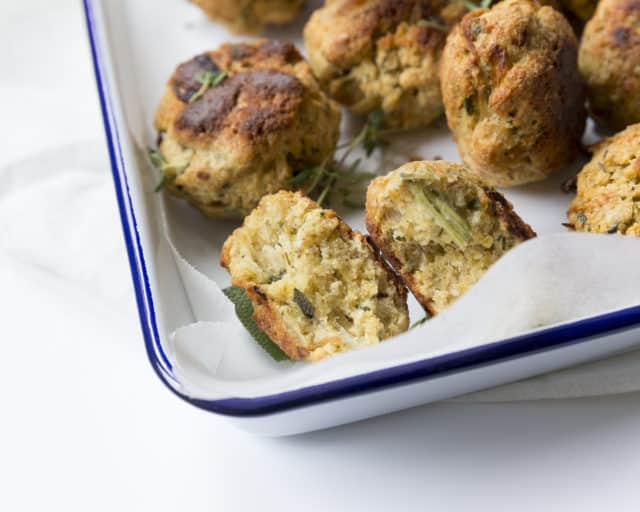 return to news