December 28 2018News
Beetroot Summer Salad
Salads are the perfect accompaniment to any summer meal, especially those summer BBQ's. But the classic lettuce, tomato, cucumber combination can become overly boring over time and become a tiresome addition to the lunch table. So mix things up with a different salad. Full of colour, full of flavour and full of 'pazazz' to wow your guests. Say hello to this Beetroot and Feta salad.
This Beetroot and Feta salad, topped with crunchy walnuts is super quick, simple and extremely delicious. A new crowd favourite we've found that brings something different to the table then the traditional garden or potato salad.  Our moto, especially when it comes to summer social gatherings,  is often 'keep it simple stupid', meaning, we ensure our recipes are equal parts simple, delicious, nourishing and of course economical to make. After all BBQ's should be relaxing social occasions with friends and family,  filled with delicious food, and 100% void of any overwhelming 'recipe' stress and anxiety.
Take a look at our Beetroot and Feta Salad recipe below and give it a try! It's even a great addition to any New Year's feast or the quintessential New Years Day Aussie bbq.
BEETROOT AND FETA SALAD with walnuts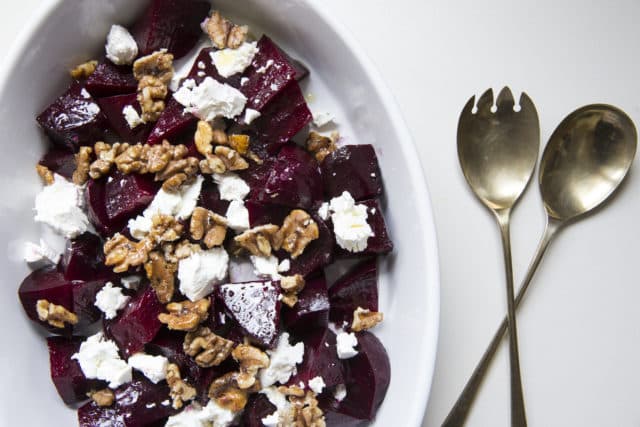 INGREDIENTS
3-4 medium beetroots
Half a cup of walnuts
75g of feta
Olive oil
Fresh mint
METHOD
Preheat the oven to 250C
Wash and dry the beetroot, remove tops and bottoms and any 'bad bits' from the beetroot.
Wrap the whole beetroots in foil and place on an oven proof tray. Roast the beetroot in the oven for 40-50 minutes wrapped in the foil.
Check regularly by stabbing the beetroot with a fork. Once cooked, the fork should prick easily and beetroot should feel soft.  Set aside and allow to cool.
Once cooled, peel back the foil and gently peel the outer layer of skin from the beetroot
For convenience, you can prepare beetroot ahead of time, and keep in an airtight container in the fridge.
To serve, roughly chop beetroot, combine with diced or crumbled feta, walnuts and drizzle with olive oil.
To finish, garnish with fresh mint leaves.
return to news