Quick and Easy Chicken broth
Winter is on it's way and its the perfect time to add all your favourite winter warmer recipes to the menu again. A quick and easy recipe to help warm you up this winter is a classic broth style soup. Packed with heaps of vegetables, this soup is full of flavour and extremely versatile to adapt to even the fussiest of tastebuds. It is also extremely quick to prepare so you can spend as little time in the kitchen, and as much time getting on with life.
If you have the luxury of time or money, making your own chicken or vegetable broth will improve the flavour and nutrients of the soup, however for most of us whom are time poor, this is not a luxury we can accomodate when preparing a mid-week lunch or dinner. So simply using a powder or cube stock is a great way to make this meal quick and affordable.
Ingredients
Chicken stock (vegetable stock can also be used)
Half a cup of quinoa or mixed grains
1 medium head of broccoli
Quarter of a red onion, cut finely
1 Lemon, cut into wedges
1 large handful of spinach leaves.
First, cook the quinoa, or a selection of mixed grains such as barley and cous cous in a small saucepan. Add half a cup of grains and approximately 2 cups of water and bring to a boil until tender. Drain thoroughly, and put aside.
Next cut up all your vegetables. Feel free to use all parts of the broccoli, including parts of stem as well as the florets, and pack your both with alternative vegetables, such as green peas, beans, corn and bok choy to name a few.
In a medium saucepan, dissolve approximately 2 stock cubes in 1L of water (check the recommended ratio of stock to water on the packet, some vary), and bring the stock to a boil until it's piping hot and fully dissolved. Once boiled, add the vegetables and grains into the stock and simmer for about about a minute. This will allow the vegetables to soften slightly, but will also warm the grains. In a bowl place some spinach at the bottom and carefully ladle soup mixture on top. Serve with a fresh lemon wedge or sprinkle of duhka and chilli.
This recipe should make enough for 4 serves. If you prefer a bulkier soup, simply add more vegetables or perhaps some shredded chicken breast into the mixture. Adding or substituting the grains for small pasta is also another great way to bulk up the portions into larger meals, or stretch the broth across multiple days.
If you're feeling something warm for lunch, and didn't have time to prepare it- don't worry, come try one of our Super Chicken Soups, or create your own broth creation with our piping hot chicken broth available in store daily.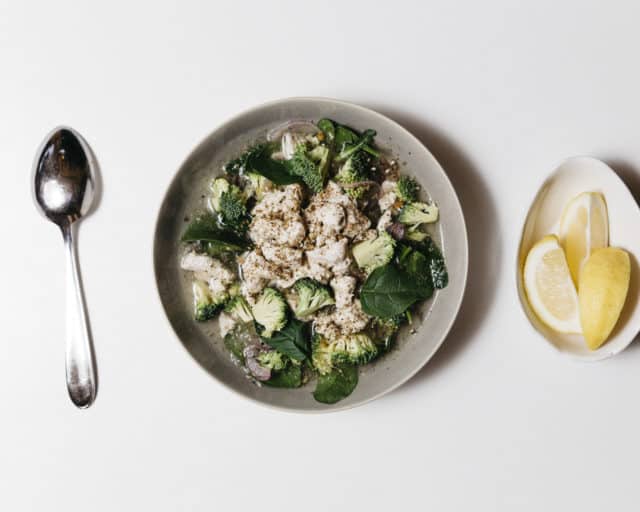 return to news