August 18 2018News
Three Spice Cauliflower
Cauliflower is a great source of natural vitamins and antioxidants during Winter. Along with a balanced diet, helping to keep you healthy and well during the colder months.
However with its subtle flavour it can be said that Cauliflower can be quite 'boring'. A vegetable we often resort to steaming or blitzing into soups, concealing it behind other vegetables and flavours. Therefore, making it easily overlooked as an exciting vegetable to have as a side dish to a delicious dinner. Which makes this recipe for Three Spice Cauliflower a perfect way to pull cauliflower out of the boring basket and elevate it to the delicious golden morsel that it is.
Try our recipe and you won't regret it. It makes a perfect addition to a dinner, try it in a Salad, or accompany it with crumbled feta, or even some goat's cheese, add a little pomegranate or cranberry for sweetness and you have a scrumptious winter dish.
Ingredients
1 whole cauliflower
2 teaspoons of sweet paprika
1 teaspoon of tumeric
1 teaspoon of Nutmeg
Olive Oil
Salt and Pepper
Optional Extras
Hulled Tahini or Balsamic Glaze
Goat's Cheese or Danish Feta
Pomegranate Seeds, Cranberries
Pumpkin Seeds, Slivered Almonds
Method
First remove any leaves and cut any excess stalk off the bottom of the cauliflower and preheat the oven to 200 degrees celsius.
Next, using a large sharp knife cut the cauliflower length ways into 1cm wide pieces. Start from the right and make your way to the left. For the large pieces from the centre, feel free to cut in half, or leave whole, but don't worry if the cauliflower florets start to fall into smaller pieces and 'crumble' away from the main stalk while cutting, all sections and pieces will be used.
Next place the slices on an oven proof tray, placing the large slices first and the smaller pieces around it. Drizzle olive oil evenly over each slice, and sprinkle with a pinch of salt and pepper.
Now for the spices, gently sprinkle each spice over the cauliflower making sure to have an even spread across the florets. Turmeric and nutmeg can be quite strong so you don't want big clumps on certain pieces and none on others. The amount of spice required can be altered to preference or the amount of cauliflower your making, so feel free to adjust to your taste. Personally, we love paprika at the moment so we tend to sprinkle extra across the florets after the cooking process too.
Next place in the oven for approximately 20 minutes. Cauliflower should brown slightly and stalks should soften. To test, gently pierce the cauliflower stalk with a fork, it should have some give but also still remain firm in the certain. There's noting worse then mushy cauliflower so make sure to take it out of the oven at the right time to keep some crunch.
To finish serve on a plate and add as many or as little extras as you wish. Here we have a simple hulled tahini drizzle and pan roasted pumpkin seeds. However the options are endless.
Crumble some goats cheese or feta, add dried fruit like cranberries or pomegranate seeds for sweetness, and even drizzle with some balsamic glaze if tahini doesn't take your fancy. This is a no fuss, no effort recipe but with bucket loads of potential and flavour!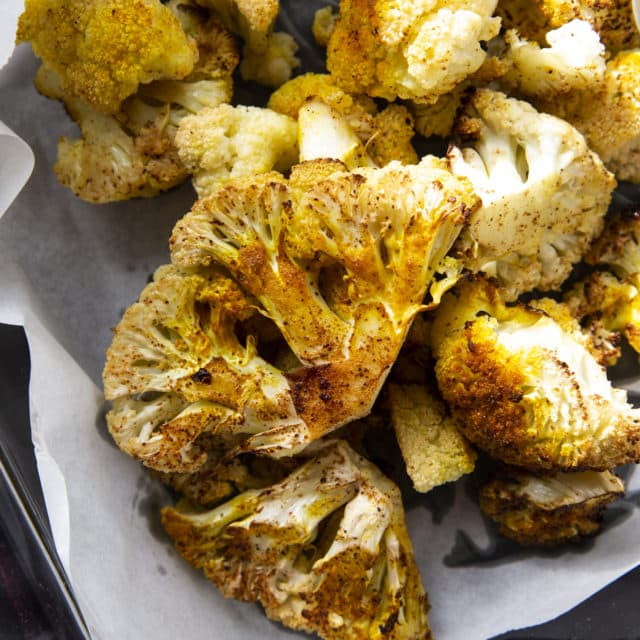 return to news