The Sunday Obsession: Maple Granola.
Let's talk about the cluster factor. Granola in my eyes needs to be super crunchy, and the way to the crunch factor- toasted clusters. A combination of oats and nuts bound together to make amazing morsels of toasted goodness. This is the 'cluster factor', the key to my favourite type of granola.
Drooling already? Wondering where to find said amazing granola.
well Look no further because We have found the most amazing recipe with a secret weapon to get your granola super crunchy and cluster filled every time!
Say Hello to this delicious Maple Granola by The Alimental Sage! Her delicious recipe will get you a delicious batch of amazing granola, so delicious that it is wise to keep it out of hands reach because it's not impossible for the entire batch to disappear in one sitting (speaking from first hand experience here). This recipe is also completely customisable, containing dried fruit and nuts of your choosing. My favourite flavour combinations are almond and dried apricot, or pecan and cranberry; but feel free to use whatever nut or dried fruit you prefer.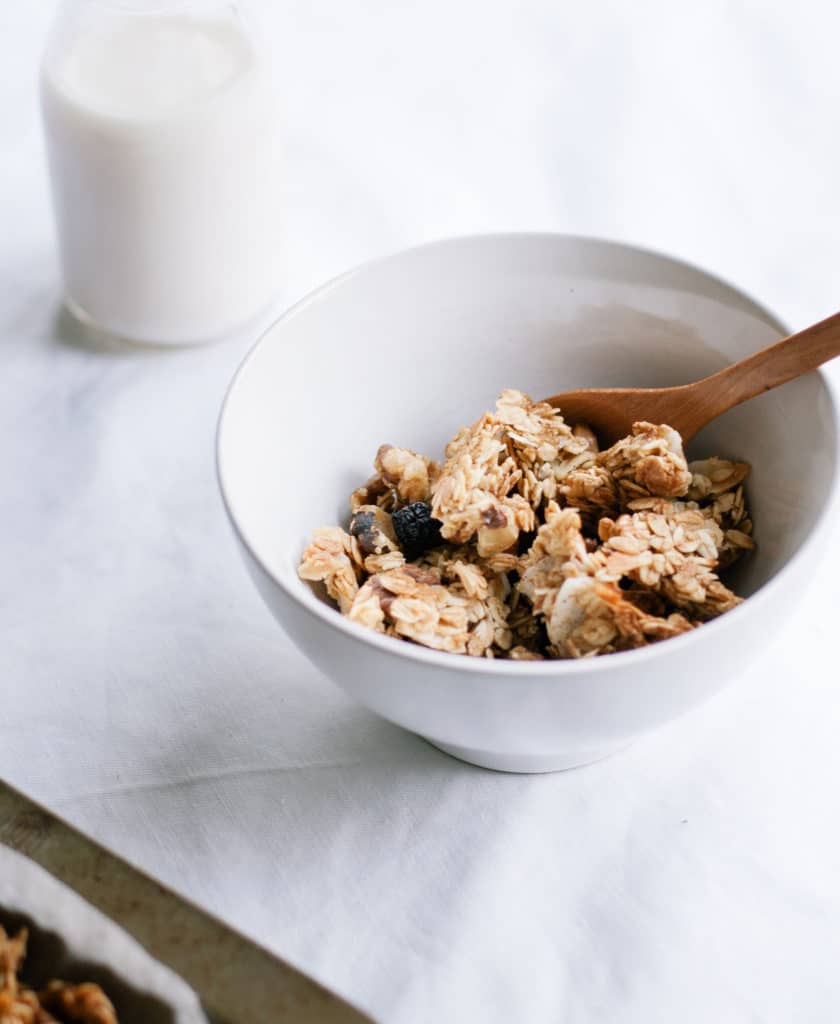 Makes around 6-7 cups.
3 cups of rolled oats
1 cup of shredded or flaked coconut
1 cup of pecans, roughly chopped (or preferred nut)
2 medium-large eggs, separated
½ cup maple syrup
2 tbs olive oil
1 cup of whole dried cranberries (or preferred dried fruit)
½ tsp course salt
1 tbs ground cinnamon
Preheat oven to 150 C.
Line an oven tray with baking paper.
In a large bowl mix together dry ingredients (oats, coconut, pecans, salt, cinnamon)
Separate egg yolks from whites. Put aside the yolks and whisk the whites until frothy.
Add the maple syrup and olive oil to the dry ingredients and mix to combine, ensuring granola mix is thoroughly coated.
Finally, add the egg whites and mix thoroughly to evenly distribute (the egg white is the most important element for 'cluster creation' as it acts like a glue and binds the dry ingredients together when baked).
Bake in the oven for 50-60 mins. At the half-way point, carefully flip granola over in (large) sections to avoid breaking up all the clusters.
When the granola appears golden, remove from the oven and allow to cool completely on tray (it will harden and become crispy as it cools).
Once cool, break up into clusters and toss through dried fruit.
Make sure to store it in an airtight container. It can be stored for about 2-3 weeks.
Not that it will last that long!
All Images by thealimentalsage.com
return to news