Simple Home-made Chicken Soup
Winter is the time to feed the soul with warm comforting food. This simple Chicken Soup recipe by The Alimental Sage is stuff that nostalgic childhood memories are made from.  The type of recipe that your mother or grandmother would make for you when you were sick. An instant cure to any sniffle and automatic boost to any bad mood.
For this recipe we recommend using a good quality boiler chicken (like a whole roast chook but specific for soups-simply ask your local butcher,) with a variety of vegetables to flavour the stock such as celery, carrot and onion. This recipe can also suit any budget, ranging from super budget friendly to gourmet. Depending on the ingredients purchased this soup can be adapted to any price point. Of course, the higher the quality of the ingredient, (especially the type of chicken used) the better and the more flavoursome the soup will be but it isn't the be all and end all if you're trying to cut costs. This is also a great recipe to make in bulk and freeze for later. The broth produced can be great to drink on it's own for an afternoon pick me up, or simply freeze and incorporate into other meals during the week.
Easy chicken soup
by The Alimental Sage
 Serves 4-6.
For the stock:

Whole chicken, bones or carcass (approx. 1 kg)
4 large carrots, chopped into chunky pieces
2 large brown onions, diced
4-5 long celery stalks, chopped into large chunks
Handful of parsley
1 x 375 g tin of chopped tomatoes OR 1-2 tomatoes roughly diced
1-2 garlic cloves, roughly chopped or crushed (optional)
Water (enough to cover the all the chicken and veggies)
Salt/pepper (add and taste as you go)
Method
Place all stock base ingredients into a large pot, fill pot with water (until ingredients are just covered), and bring to the boil.
Reduce heat and let stock simmer for 4-5 hours until stock has reduced and any chicken meat falls off the bone. Adjust seasoning with salt and pepper towards the end of cooking.
Excess fat may appear on the top while the broth simmers, for a super clear broth skim this off the top and discard otherwise feel free to keep in.
Once stock is done, strain and separate the liquid from chicken/vegetables. Any excess broth set aside to cool before freezing. Stock will last about 3-5 days safely in the fridge also.
Reserve enough stock for serving, and in the main pot and add back in any of the cooked vegetables and chicken flesh and bring back to the boil. Feel free to add optional extras into the soup such as extra vegetables or even some pearl barley or pasta. Our go-to is usually a type Pastina, (small pasta), and some extra vegetables such as zucchini and pak choy. Once the added extras are soft and the broth is boiled your soup is ready to serve.
Images copyright The Alimental Sage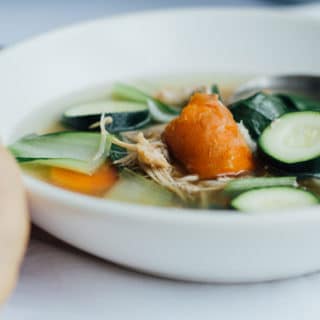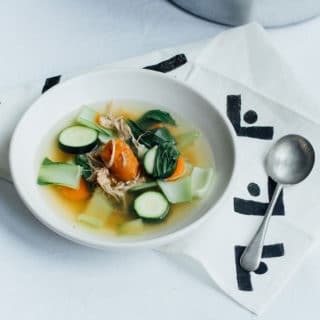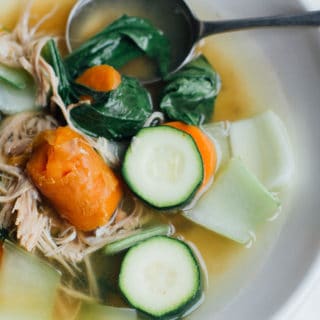 return to news