The Saturday Afternoon Cure for Munchies.
Cooler weather instantly means spending your weekends curled up under a blanket with a good book or watching one of the many movies that you put on the 'that-looks-really-good' list over the summer. And, inevitably the cooler weather instantly means the winter munchies begin, and we've found the perfect recipe to warm your insides.
Banana Bread is the perfect compliment to that afternoon 'couch-session', an amazing afternoon snack and even a great breakfast option. Even better, our favourite Healthy banana Bread recipe by dietician Camilla Ferraro from The Alimental Sage is the perfect and most scrumptious recipe that wont leave you feeling guilty.
Classic healthy Banana Bread
2 cups spelt flour
1/2 cup rapadura (unrefined) sugar
2 tsp baking powder
2 tsp cinnamon, ground
3 medium ripe bananas (save one for the top)
250 ml milk (of your choice)
2 large eggs
1/4 cup olive oil
Butter (for greasing)
Handful granola and/or chopped dark chocolate (optional topping)
Method
Preheat oven to 200 C and grease and line loaf tin with baking paper.
In a large bowl, mix together dry ingredients (flour, baking powder, cinnamon, sugar).
In a separate bowl (or jug) whisk together milk, eggs and oil.
Incorporate wet ingredients into dry, being careful now to over-mix the cake batter.
Mash TWO of the three bananas with a fork (save one for the top). Then incorporate this mashed banana into the cake batter.
Pour cake batter into prepared tin and top with long slices of remaining banana and a handful of chopped dark chocolate and/or granola if you wish.
Bake in preheated oven for 40-45 mins and/or until cake is golden brown and skewer inserted into centre of cake removes clean. Do keep an eye on the cake as it cooks – if you find it browning too quickly then simply place a sheet of baking paper on top to cover.
Allow cake to cool in tin for at least 10-20 mins before removing and allowing to completely cool on a wire rack.
Best served warm/toasted with lashings of fresh ricotta, greek yoghurt and a drizzle of pure honey!
Notes
Cake will keep fresh for 2-3 days at room temperature. You can freeze it too, cutting individual slices means you can defrost individual portions and toast them when you desire.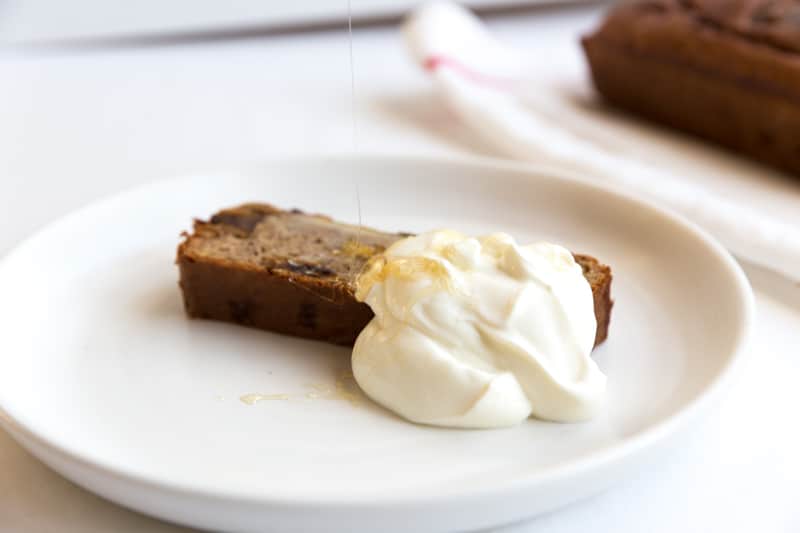 return to news