March 25 2018News
Mixed Grain Salad with Soft Boiled Egg
This mixed grain salad has everything you need to make a kicker salad for the whole crew. It has grains for sustained energy, gooey soft-boiled eggs for protein and that #brunchgoal factor and it has amazing crunch. The green beans, and celery are also in season right now, which means it's a great way to make the most of this seasons crop while the Australian produce is fresh and delicious.
Plus, it has no overpowering flavours, so you can add your own flavour twist such as bacon, haloumi or even crumbled goats cheese to bring the salad to the next level.
To make this recipe you will need
Eggs (one per person)
Canned chickpeas
Green Lentils
Farro
Handful of green beans
Celery, 2 stalks
Feel free to add:
Other grains: Quinoa, Freekah, Rice
Cheese: Goats cheese/feta or Haloumi recommended
Extra Protein: Bacon, beef brisket
Start by boiling the eggs and chosen grains. In one small saucepan place the desired amount of eggs, and cover with water. Bring the saucepan to a boil and simmer for 3 minutes for soft-boiled centres. Drain the water from the eggs and rinse with cold water to stop the cooking process. Put aside and allow to cool.
At the same time, place one cup of grains, (combine all your grains together to make up one cup), 2-3 cups of water and a pinch of salt. Bring to the boil and cook for approximately 15-20 minutes, depending on the grains chosen more time may be needed. Drain the grains thoroughly to ensure no excess water will turn the grains soggy.
While the eggs, and grains cool slightly, lightly steam a handful of green beans, keeping them a vibrant green and super crunchy. Drain and rinse 1 can of chickpeas. And cut 2 stalks of celery
Finally on a large serving plate, place the grains on the bottom and layer up with the beans, celery, chickpeas and eggs on top. If you've added some extra protein or some cheese, add on top with the eggs or even place as a side option for people to add themselves. I like to drizzle the salad with a balsamic dressing, however a simple lemon and tahini mix or even a chipotle or creamier dressing will work also. Bonne Appetit!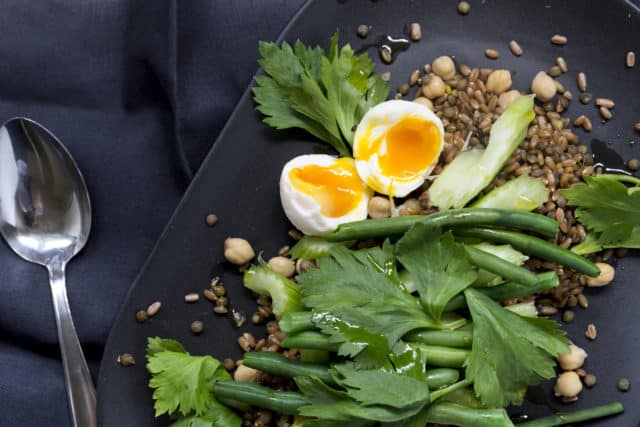 Serves about 2-3.
return to news