May 06 2018News
Honey Roasted Fig Winter Baguette
Honey Roasted fig with triple brie, prosciutto and a crunchy fresh baguette. That's it. That's all it should take to sell you on this new winter recipe. It's sweet, it's salty, it's crunchy and it's wholesome. It is a perfect winter warmer recipe. Best of all it uses fresh and seasonal produce.
With figs in season at the moment it would be silly not to take advantage of the amazing sweet morsels while they're available. At Crisp, we always like to eat fresh and buy local, supporting Victorian farmers and local stores wherever possible. Which also means buying fruits and vegetables that are in season and in abundance. An ethos in which we always try to follow when giving you new recipes to try.
Figs and cheese are famous for being a match made in heaven so it's no surprise that adding a little honey, some prosciutto and fresh bread works wonders for the taste buds. It may sound a little fancy using figs but they give a great twist to the regular baguette go-to combination.
1  ripe fig (per person)
Fresh baguette
Triple brie (buy the best quality you can afford)
4 Slices of Prosciutto (per person)
Honey
Preheat your oven to 120 degrees celcius.
Cut your fig into slices, laying them on an oven tray lined with baking paper. Using a knife smear a dollop of honey onto each slice and leave in the oven until the honey begins to bubble and the fig golden. Leave to cool slightly.
While the fig is cooking, cut open a section of baguette and layer with the slices of prosciutto and thinly sliced pieces of brie. Put the baguette open into the warm oven or grill and cook until the bread and prosciutto crisp up and the brie melts. Once melted layer the fig slices on top and cook for another 2-3 minutes.
Remove from the oven and serve. The baguette should be warm and crispy while the sweet figs will cut through the creaminess of the brie and the slight saltiness of the prosciutto. YUM!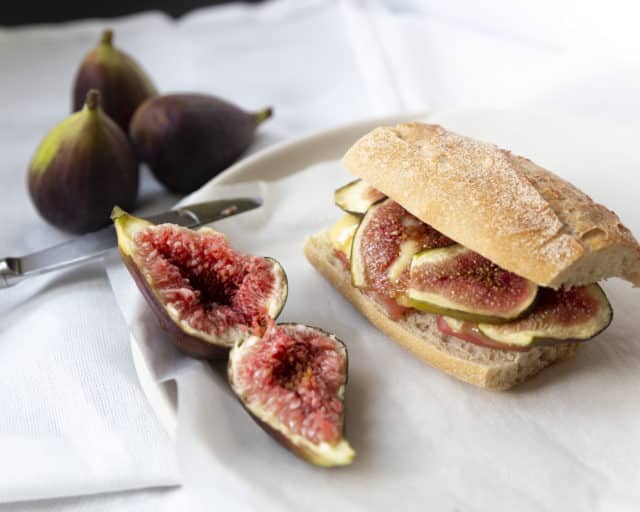 return to news