March 04 2018News
Crunchy Honey Oat Slice
The Women's Weekly Crunch Honey Oat Slice is equal parts crunch, chew, sweet and nutty all in the one slice. It's incredibly simple to put together and only takes 5 simple ingredients. At Crisp, we always try to give our readers recipes that are convenient and affordable, while remaining wholesome and nutritious. So when we say a recipe is quick, easy and affordable-we mean it!
It's a great snack recipe-easily kept in airtight containers to store and keep for the entire week, if it lasts that long! You can even crumble the slice over fruit and yoghurt and use it as a crunchy oat granola. The options are endless! Also, did we mention it's completely no bake? All you need is a mixing bowl, a stove top and saucepan and voila, you have everything you need to make this delicious treat!
Ingredients
300g of unsalted nuts and seeds (I've used a mixture of cashews, almonds, peanuts and cranberries)
1.5 cups of rolled oats
0.5 cups of honey
1 cup of coconut flakes.
1 teaspoon of vanilla paste
75g of butter
Method
Grease a small tin (8in) and line with baking paper.
Next roughly chop up the almonds and then tip all the nuts into a medium bowl.
Lightly toast the coconut and oats in a dry pan on a low heat for 2-3 minutes, allow to cool. Then finely chop(or process in a mixer) 3/4 of the oat mixture and 1/4 of the nut mixture until finely chopped. Return all the dry ingredients to the bowl.
Place butter, a pinch of salt, honey and vanilla into a saucepan and stir over a low-medium heat until the mixture begins to bubble. While warm add this mixture to the dry ingredients and stir until the entire mixture is well coated and sticky.
Spoon the mixture into the tin and press lightly to level the surface. Cover the surface with a sheet of baking paper and press firmly to remove all air pockets in the mixture. Allow to cool for 10 minutes and repeat the pressing. This will allow the mixture to set firmly.
Leave to cool the mixture completely at room temperature. Once cool you can remove from the tin and with a sharp knife, cut into slices. Make sure to store the pieces in an airtight container to ensure longevity.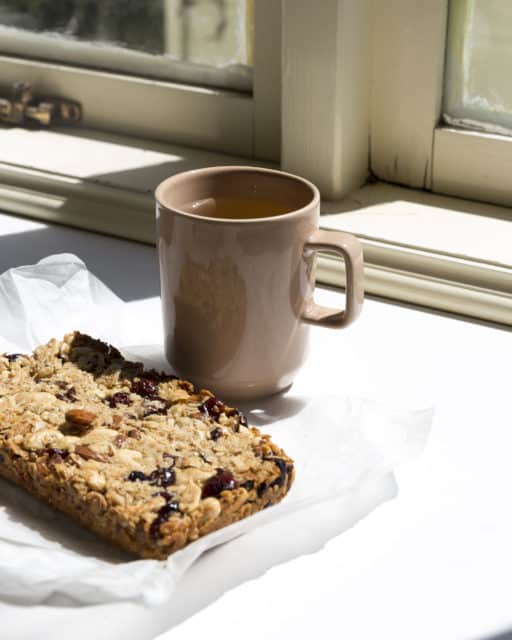 Note: You can enjoy this as a snack, or crumble the slice over some yoghurt.
Recipe courtesy of The Women's Weekly, 5 Ingredients Cookbook.
return to news