A Christmas Chocolate Mousse
The 'silly' season is upon us and with that comes a plethora of eating indulgent food and social catch ups. Which means it is a great time of year to whip out those special recipes, or perhaps ones that use amazing Australian Summer produce. The cherry season isn't one that lasts for long or in fact one that you can guarantee the yield of their crops with weather playing such a big role in the success of the fruit.However when the crops are good and in abundance, cherries can be one of the most amazing Christmas treat. Plus their rich sweet flavour makes it a perfect accompaniment for a Christmas Dessert- like out rich dark chocolate mousse. It's a delicious light dessert that is extremely quick to whip up and doesn't require extremely expensive ingredients. To make the dessert even cheaper but even sweeter, take a trip to a U-pick berry Farm and pick your own Cherries. The produce is a lot fresher and noticeably cheaper then buying from big supermarkets and grocers. To see where to go to pick your own berries see our latest post of U-pick berry Farms here.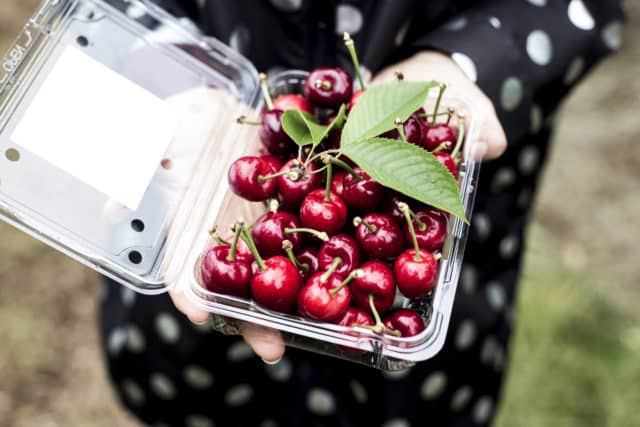 This recipe can be made completely dairy free and vegan friendly, simply choose a dark chocolate, and a pure raw cacao instead of a coco.
INGREDIENTS
Mousse
150 g Dark chocolate (50-70% is preferable)
2 large ripe avocados
2 tablespoons cocoa powder
2 teaspoons vanilla bean paste
3 tablespoons maple syrup
1 x 160 g tin of coconut cream
Cherries
2 cups of cherries, halved and pitted.
1 teaspoon of cinnamon.
A couple of whole cherries for decoration.
METHOD
First melt the chocolate in a small saucepan on a low heat. Gently stir the chocolate until it is completely melted, (It should have a smooth shiny texture), then set aside to cool.
Next, move onto the gooey cherries. Add 1 cup of the pitted halved cherries with the cinnamon to a small saucepan and simmer on a low heat until the cherries are soft. Adding a bit of water to the saucepan before heating can also help the cherries to stew easier. Set aside and leave to cool.
For the mousse, combine all of the ingredients into a blender, and pulse lightly. With a spatula scrap the sides of the blender and continue to pulse until the mixture is smooth. Then, add the melted chocolate into the mixture and pulse again until completely combined.
To serve, portion out a small amount of mousse into the bottom of the serving glasses or small ramekins. Layer each one with a layer of pitted fresh cherries, and add another serve of the mousse on top. Lastly, layer the gooey cherry mixture evenly across each portion.
Place in the fridge for 30 minutes to set.
Serve with a fresh whole cherries on top for decoration, or even shave some extra chocolate on top.
Makes 6 smaller serves, or if you love dessert like we do then indulge in 3 larger portions. To make bigger batches simply double or triple the portions.
return to news